Viewing a Task page
Last Updated: 2022/05/04
First off, click on the SwiftCase logo located at the top left-hand corner of the page. This will take you to the Dashboard.
Or you can:
Go to the left-hand menu and click on 'Tasks'
From the drop-down menu, select 'Tasks'. This will take you to the Dashboard.
Select the Task type from the list of Workflows and find the Task you are looking for from the results displayed at the bottom of the dashboard.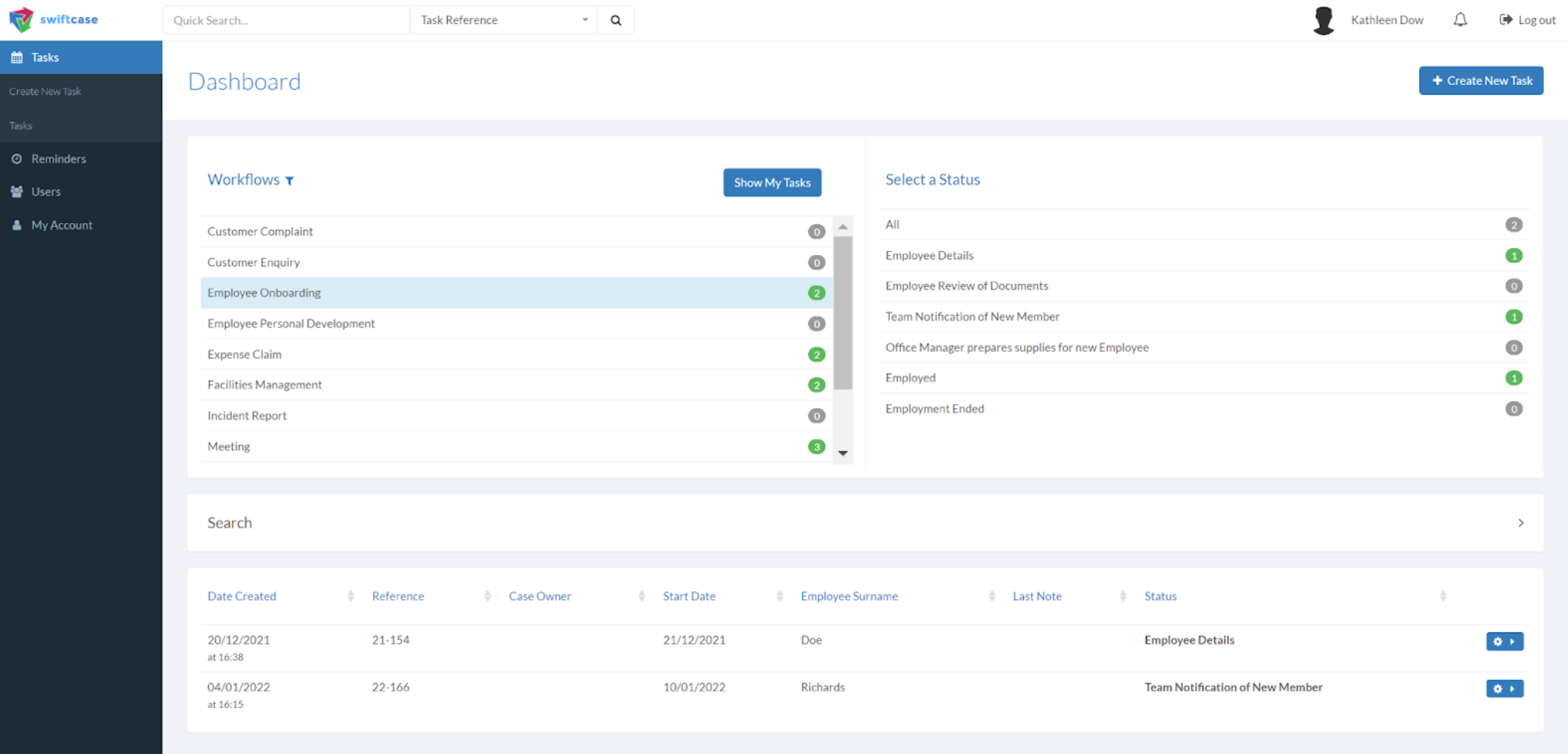 To view the Task page, hover over the task listed or click on the setting drop-down icon on the right of the results.
Select 'View' from the options.
This will take you to a new page titled with the reference number and the name of the Task.
Status Drop Down Menu: The drop-down menu at the top of the page will display the current status of the workflow. You can view the other statuses of that specific Workflow by opening the menu. If you alter or select a new status from the drop-down menu, it will not affect the current active status.
Information box: Located under the status drop-down menu on the right-hand side of the page, the information box may display fields for you to fill out to progress the status of the workflow, and is subject to the Task and status of the Workflow.
Quick Actions: Located on the top right of the page, the 'Quick Actions' drop-down box allows you to:
'Manage Task…' (change the task)
'Manage Users…' (change Client Staff or Override Task Owner)
'Change Status' of the task
'Compose Email'
'Create Reminder'
'Mark as Cancelled'
'Mark as Deleted'
Blue, Green, and Red buttons: Towards the bottom of the page, there are blue, green, and red buttons (their presence and actions subject to the Task you have selected to view). These buttons are used to progress and update the workflow status, depending on whether certain processes have been completed or not.
Document Manager: Choose or drag and drop any files associated with the workflow here.
Task Notes: Located at the bottom of the page there is a 'Task Notes' drop-down box. Here you can view any task notes or create task notes.
Task Logs: Next to 'Task Notes' is a 'Task Log' drop-down box. Here you can view any:
Auditing activity and detailed information about RAG Change
Task Status Change
Case Owner(s) Updated
Task Put On Hold
User Auto-Allocated
Failed Scheduled Events
Reminders
Child Task Creation
Auto User Creation
By Kathleen Dow